CombPal Hair Cutting Tool:
Advantages Over Clippers and Free-Hand Cutting
The CombPal shines in a salon setting, but this personal care tool is also ideal for achieving salon-quality results in the comfort of your home! Great for short-cropped looks as well as longer lengths, the CombPal can help with trimming bangs, managing split ends and much more!
Adjustable angles and lengths for consistency when cutting wet or dry hair

7 Classic guides from 1/4″ to 2-1/2″(0.6- to 6.4 cm)

Optional jumbo guides 3″ and 3-1/2″ (6.7 to 8.9 cm)

Cut hair with texture point cutting for a soft finishing look

Suitable for short or long hair styles, thick or thin hair types
Save money on haircuts! Just one DIY cut and CombPal pays for itself!
CombPal Products
If you want to do your own hair cut at home or use the CombPal hair cutting and trimming tool at work, the double-sided comb works as a 1/4″ (0.6cm) guide. It comes with seven other guides for maximum versatility: 

1/2″ (1.3 cm)

3/4″ (1.9 cm)

1″ (2.5 cm)

1-1/4″(3.2 cm)

1-1/2″ (3.8 cm)

2″ (5 cm)

2-1/2″ (6.4 cm)

This haircut comb also comes with instructions for six popular haircuts, and an organized zipper-lock plastic bag is included.

A professional haircut is easy to achieve with the CombPal Classic set. You can make your investment back in just one haircut! Trim short hair into a pixie cut, style long hair into a mullet, and much more! Forget your regular comb and switch to CombPal today.

CombPal was invented and made in Canada.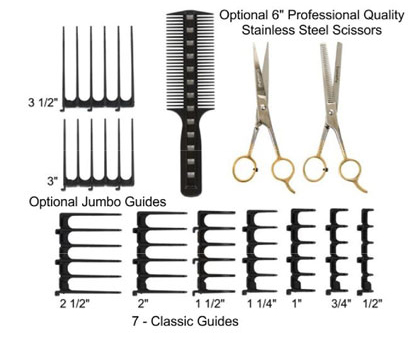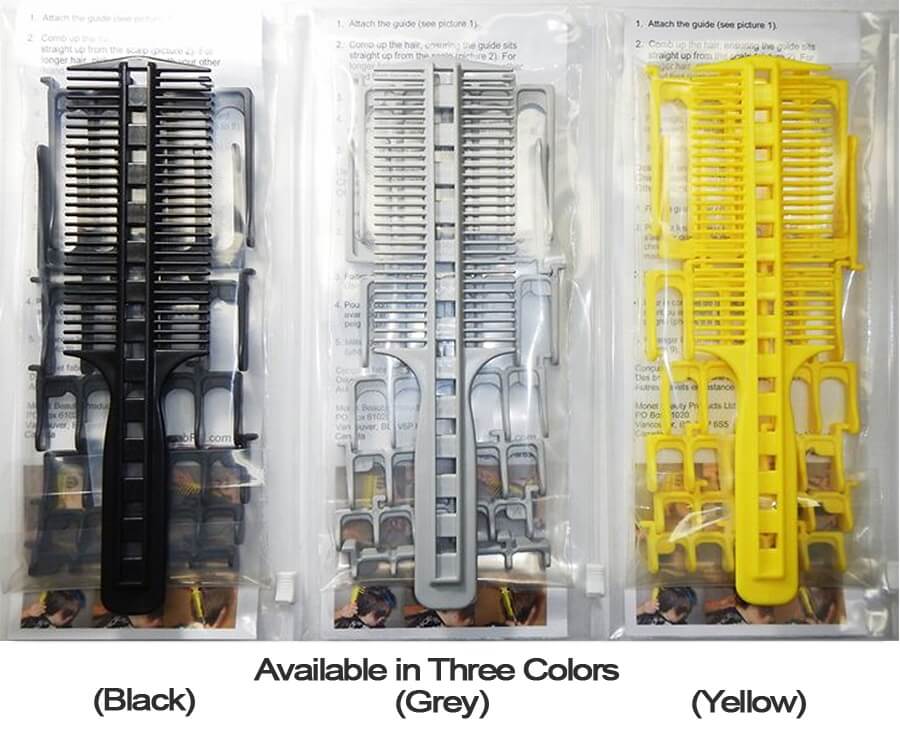 Frequently Asked Questions
What People Say About Us
Love this product works excellent, this is a good money maker for me as a barber.
V.M., USA
My 2 year old son is sporting a new neater haircut now.
M.A., UK
Excellent service. Pleased with item. Thanks.
E.P., UK
Good product, fast shipping…Highly recommended.
D.K.K., UK
This has saved me loads of money. Delivery was very fast thanks great service.
E.M., UK
Quick shipping and professional. Definitely a pleasure.
S.K., USA
Love this product works excellent, this is a good money maker for me as a barber.
V.M., USA
Very fast shipping. I already try the comb and I love!!!! A++++++++
S.C., Canada
Awesome product. Helped me cut my own hair like a salon would!
J.L., USA
Absolutely amazing! Fast shipping and great product, thanks!
D.R., USA
Referred this seller to several hair stylists. Love this item.
M.M., USA